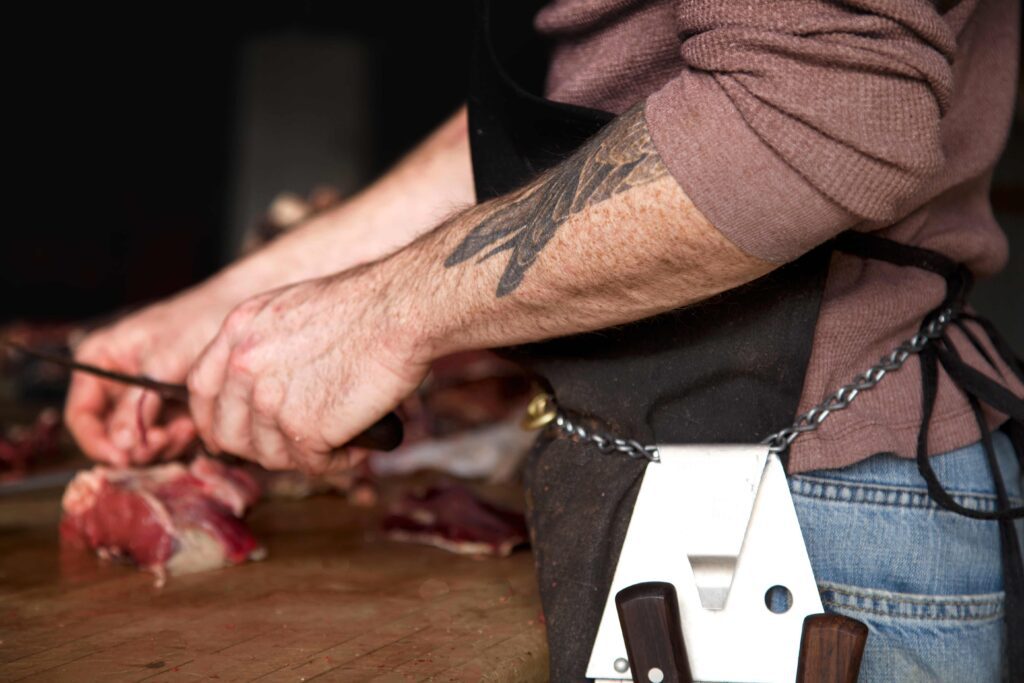 On Farm Processing & Butchery
Description here about what the weekend holds.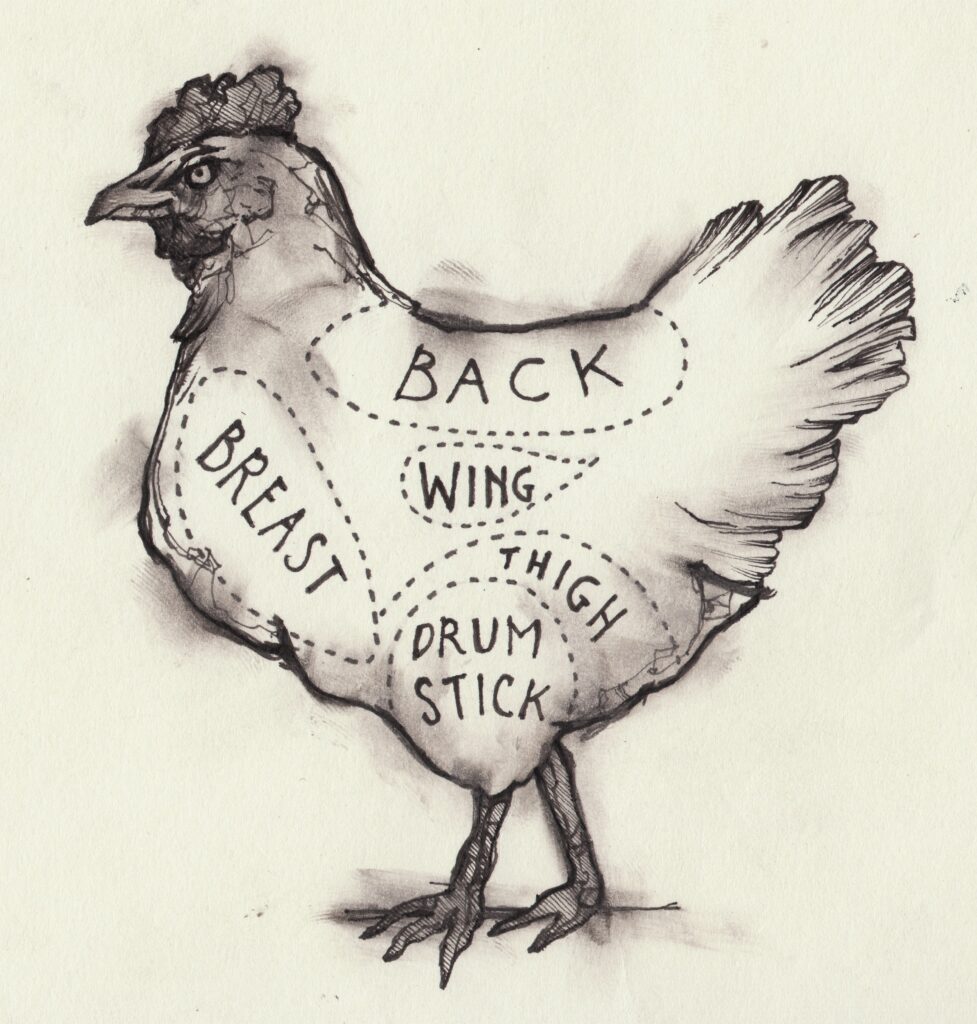 We will explore all things poultry. We will cover everything from the different types of poultry tractors and benefits of each, what it means to raise pastured poultry, how to maximize feed yields, sourcing feed, growth rates, breeds of birds, and much more. We will learn how to process birds on farm, from stunning, through bleeding, plucking, gutting, and chilling, we will cover everything that you need to know to raise and process your own poultry.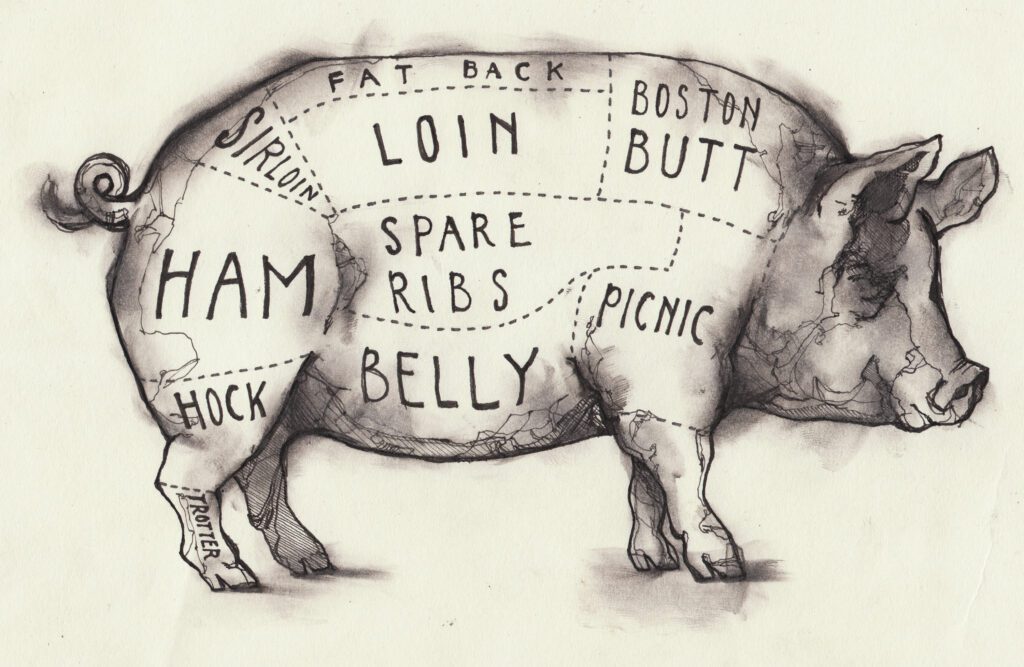 We will explore all things hogs. From breeds to feed we will talk about what it means to raise hogs on your farm. We will harvest a pig from the farm, discuss stunning, bleeding, skinning, scalding, evisceration, and chilling. We will go through hog butchery in detail, talking about all the ways that you can break down an animal and what you can yield at home vs from a processor and what it means to cut for your freezer. We will discuss nutrition needs of hogs, how what you feed them effects their nutrient density, flavor, and fat, and why you should pay attention to your hog ration.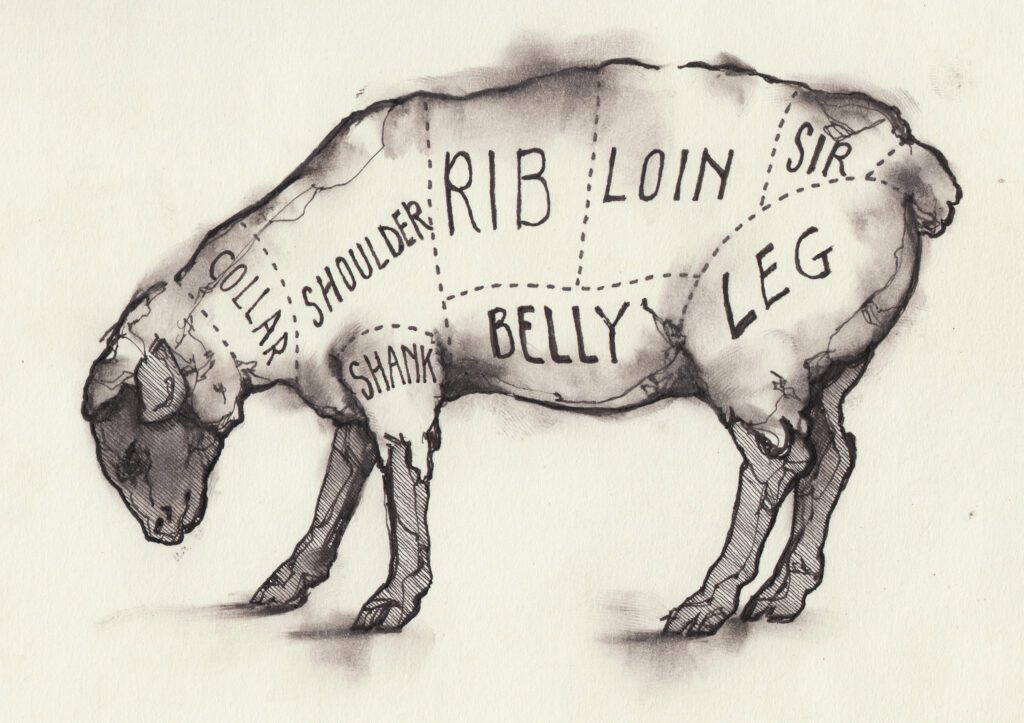 We will explore sheep and goats. These beautiful ruminents are a wonderful addition to any farm but come with their own challenges. We will talk about dairy, meat, feed, hay, and teenagers! We will harvest an animal on the farm and experience stunning, bleeding, skinning, evisceration, chilling, and butchery. We will talk about the different ways to cut smaller ruminants including how this applies to game animals like deer, elk, and pronghorn.
Join us for an exploration of raising, harvesting, and butchering animals on our farm.
Come join us on our farm in upstate New York for 3 days of fellowship, food, learning, butchering, and so much more! Each spot secures you a space in this unique, informative, hands on learning experience. Join Kate and Josh for a deep exploration of animal husbandry, health, nutrition, butchery, cooking, and so much more!
Included in each reservation:
farmer, butcher, holistic nutrition and root cause coach, and big time dreamer.
Hi, I'm Kate. Growing up in the city, I spent my days riding my bike, dreaming of the day when I was riding a horse in the country. I often feel like I wasn't meant for the modern world. Some of my deepest desires are to slow down and take the long road home and to spend time growing and raising my own food and all that comes with it.
After studying biology and anthropology in college, I knew that there was something that waited for me beyond the world of academia. Early on, I found a deep sense of purpose in the regenerative agriculture movement. In 2013, I opened Western Daughters Butcher Shop in Denver, Colorado with my partner and now-husband, Josh Curtiss. We were devoted to saving the prairie one steak at a time through our mission of meat that was good for the land, good for our bodies, and good for the community. Almost ten years later, we've put over 5 million dollars back into the hands of ranchers along the Front Range. We've also spent a lot of time telling stories about food, cooking food, and researching everything possible about food. In 2019, we knew it was time for us to try our hands at farming. We run a small experimental farm where we raise low-PUFA pork and poultry alongside goats and a very small herd of cattle. 
After years of learning, absorbing, and listening – I'm now stepping into the realm of sharing stories on the Ground Work podcast and exploring the amazing people that are laying the Ground Work for generations to come.
farmer, carpenter, butcher, entrepreneur, chef, and generalist.
Howdy, I'm Josh. I spent the majority of my childhood outdoors exploring my environment both alone and with friends. I grew up learning from my Eagle Scout father and reading books like Hatchet by Gary Paulsen and Tom Brown's Field Guide to Wilderness Survival. 
I have always been an avid collector of skills and so, during my studies towards a BFA in Sculpture from Arizona State University I chose jobs with the intention of learning as many skills as possible. I worked on a Smithsonian Museum exhibit both on the construction and installation, learned custom cabinetry from a master carpenter, and framed houses in Phoenix in the summer! All of this lead me to a position managing a custom design build shop creating early learning spaces in libraries for a company called the Burgeon Group. 
After 5 wonderful years at Burgeon Group and inspired by Kate's interest in learning butchery Kate and I went to New York where we learned European style cutting and all of the ins and outs of a butcher shop. We opened Western Daughters Butcher Shop in 2013 where we work to connect farmers and ranchers with the folks who eat the food that they raise.
In 2019 Kate and I were finally able to fulfill our dream of living on a small experimental farm and raising all of our own food! We raise low PUFA pork, goats, poultry, and a small herd of cows.
I now have the pleasure of being a generalist, problem solver, and "josh of all trades!"